Mediterranean Nights Committee Virtual Wine Tasting – November 11-12, 2020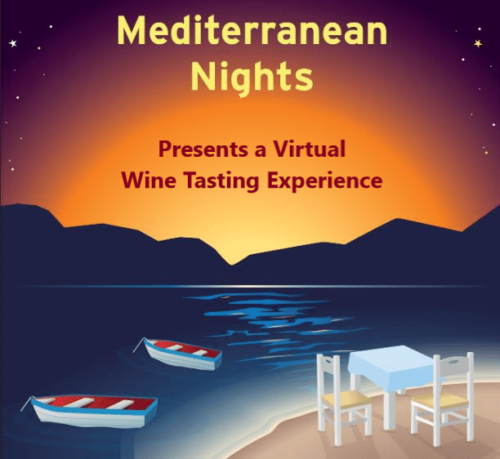 Thank you to the AHRC NYC community for supporting our series of virtual wine tastings. Together, we raised $170,000! Participants experienced an exclusive interactive virtual wine tasting while watching a special performance by AHRC NYC's Our Broadway, with Broadway guest stars Thayne Jasperson from Hamilton, Jake Swain from Mean Girls, Christianne Tisdale from Wicked, and more! Click here to see the full list of Broadway stars. The Our Broadway performance of "You Can't Stop the Beat" is now on AHRC NYC's YouTube Channel. Click here to view it. Enjoy and feel free to share widely!
Event Co-Chairs
Jeanne Sdroulas & Dora Vardis
Event Committee Members
Mark & Christiane Bini, Brian Doherty, Allisson Knoll, Vasso Roti, Katie Urtnowski, and Sharyn Van Reepinghen
Special Thanks to our Sponsors
Benefactor
Drennen Bros Hauser Foundation
Patron

The Robert Mize and Isa White Trimble Family Foundation

Tali & Boaz Weinstein Philanthropic Fund
Event
Jean Cheever
Peter & Anne Marie Embiricos
Caroline P. Hirsch
Tracy McNamara & Todd Hirsch
Supporting


Christiane & Mark Bini
Marina & Constantin Chassapis
Elizabeth Manko
Patricia Murphy
Jacqueline & James Quigley
Elly & John Rufer
Jeanne Sdroulas
Erica Wax
Ultra
Linda & Angelo Aponte
Anna & Andreas Chrysostomou
Joan & Marco Damiani
Wendy Duryea
Margaret & Raymond Ferrigno
Laura & Henry Kennedy
Jill Labert
Dianne M. Olenick
Preston Pittman
Ellen & Ted Trief
Sharyn Van Reepinghen
Mary & Stephen Weafer
For photos of Mediterranean Nights 2019, click here.
For more information, contact Dianne Gomez at 212-780-2690 or dianne.gomez@ahrcnyc.org.