Jayson Valles has been creating art since the age of five. As an artist supported by AHRC NYC's ArTech Collective, Jayson has been able to learn and grow, while immersing himself in the New York City art community.
"Art is my life. I love sketching, painting and digital art," says Jayson.
AHRC NYC's ArTech Collective provides opportunities for artists like Jayson to develop and express themselves creatively through inclusive, innovative, and accessible approaches to traditional and new media.
ArTech studios provide people with tools to express their ideas through the creation of art and to develop their craft. The studio is an extension of AHRC NYC's mission to advocate for people who are neurodiverse to lead full and equitable lives.
People like Jayson, who has flourished as one of the founding studio members.
"Pablo Picasso, Diego Rivera and Frida Kahlo inspire me. I wake up to prints of Don Quixote and Sancho Panza in my house every day."
Jayson's signature style infuses the colorful warmth of tropical scenes with the diverse landscapes afforded by New York City's many neighborhoods.
His paintings are heavily layered with paint and every little bit of the canvas is treated with attention to detail. Pola Ana-Mora, the Program Supervisor at ArTech, has worked with Jayson for several years, seeing his style evolve and improve.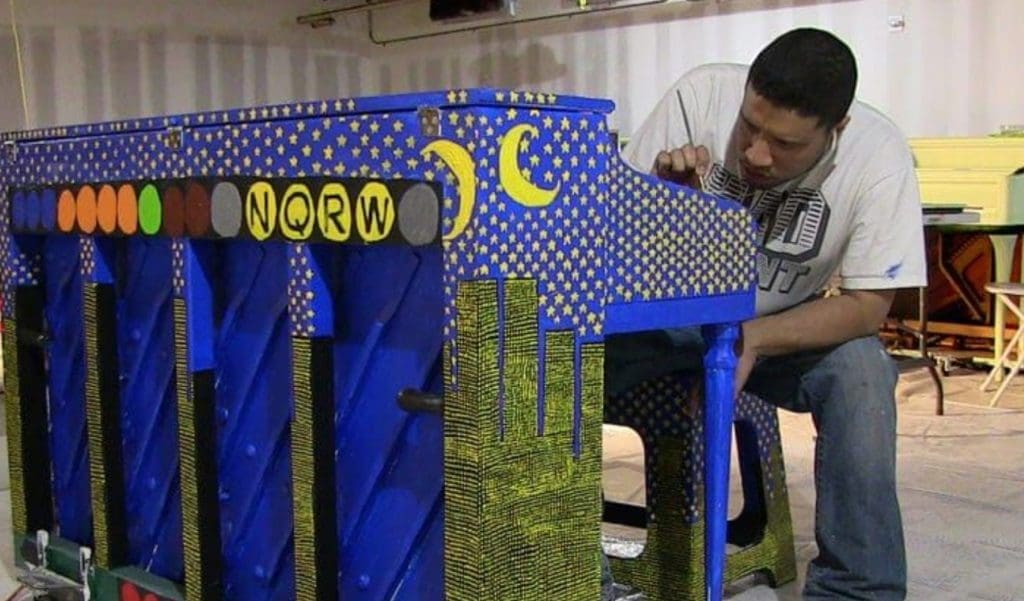 "Jayson often takes pieces of his culture and inserts them into his drawings," Pola explained. "Over the years Jayson has created countless beach scenes and portraits of people he imagines from Puerto Rico."
Jayson has seen his work displayed in MoMA and outsider art fairs and has participated in many gallery shows in New York City.
It really is true that art helps us to live more full, resilient lives. And that's the kind of help that we need now, more than ever.